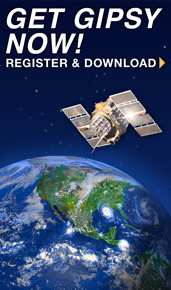 GipsyX
is developed by the Jet Propulsion Laboratory (JPL), and maintained by the Near Earth Tracking Applications and Systems groups. It replaces the
GIPSY-OASIS (GNSS-Inferred Positioning System and Orbit Analysis Simulation Software)
software.
Features:
Analysis of data from Global Navigation and Satellite Systems (GNSS):

Global Positioning System (GPS)
Russian GLONASS
French DORIS
Satellite Laser Ranging (SLR) system

Precise centimeter-level GNSS-based positioning and timing:

Space platforms, including low-Earth orbiters and GNSS constellations
Airplanes
Terrestrial (ground) stations, static or moving
Time transfer

Single high-level user interface supports majority of precise positioning applications
Single-receiver ambiguity resolution using JPL's GPS orbit and clock products
Documentation accompanying software modules, and online help
Training at annual GipsyX user group classes, and online
Hundreds of research and educational users in more than 20 countries
Builds on more than 35 years of JPL experience with GPS data analysis
Applications:
Terrestrial positioning for geophysical research:

Earth deformation, plate tectonics
GNSS Networks (e.g. PBO and SCIGN)
Ice flow
Climate studies through observation of troposphere and ionosphere
Reference frame (geocenter and scale) and Earth rotation parameters

Airplane positioning
Precise orbit determination

Low-Earth orbiters: Topex/Poseidon, Jason-1, Jason-2/OSTM, Jason-3, Sentinel-6, NISAR, GRACE, GRACE-FO, Champ, SAC-C, COSMIC, COSMIC-2, DSAC, Space Shuttle (e.g. SRTM), Commercial Satellites
GNSS constellations including GPS, GLONASS, Galileo, Beidou, QZSS, and IRNSS
.