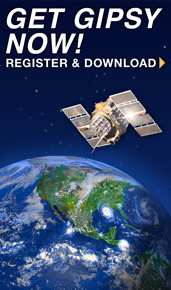 GipsyX Software
Request a License to use GipsyX
First you have to request a GipsyX license. To do so click on the above link and select the 'Request Software' button. Then fill in the requested information using GipsyX for the Software Title.

Download GipsyX Software
After obtaining a GipsyX license, click on the above link and use the user name and password provided when the GipsyX license was activated to obtain GipsyX.
GipsyX Features
Single receiver ambiguity resolution using JPL's orbit and clock products for GPS
Sophisticated filter and smoother with flexible process noise modeling
Complex models of geometric effects

Sub-daily and long-period Earth orientation (polar motion and UT1) variations
Solid Earth body tide deformations
Ocean tide loading deformations
Transmitter and receiver antenna calibrations
GPS and GLONASS attitude models, and preliminary attitude models for Galileo and BeiDou
Phase windup
Quaternion input for vehicle attitude (e.g. Earth Orbiters, aircraft)
General relativity
Crustal plate motion (reference frame)
Second order ionosphere
Dry and wet troposphere mapping functions (GPT, GMF, VMF, Niell)

Complex models of force models for Earth orbiters

High order Earth static gravity fields
Atmospheric drag
Solid Earth, ocean, and pole tide gravity fields
Solar and terrestrial radiation pressure
Relativity
Third body effects from Sun, Moon, and planets
Custom and general models of spacecraft shape

.