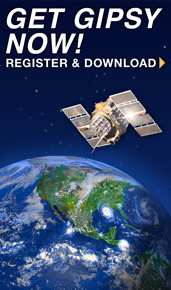 GPS timeseries at JPL
We produce various position timeseries using the GipsyX software in a Precise Point Positioning mode. We use our Network Processor software to manage the large numbers of PPP jobs on a linux cluster. In some cases, a troposphere series is also retained.
Our series:
Western North America & Global
1992-present
Version "repro2018a" completed Oct 2019 using GipsyX in ITRF14 is current
Position and troposphere series are extended on a weekly basis
Metadata from SOPAC xml files (login as anonymous, password=email)
View a map of the network (opens in new window)
also available via the joint SIO and JPL ESESES MEaSUREs website
Higher-level data products based on this series:

At the ESESES MEaSUREs website for JPL and SIO Solid Earth joint data products:

a combination of the JPL and SIO series
outliers removed; offsets determined; spatial filtering
derived troposphere products
derived strain, transient, and water storage products.

At JPL:

plots
outliers removed; offsets determined and velocities are estimated

1992-08-16 to present:

Created using GIPSY's precise point positioning (PPP) capability with JPL GIPSY Final Orbits, reprocessed in 2018 in IGS14
GPT2 troposphere with GPT2 nominals
IGS14 absolute antenna calibrations
Second-order ionosphere
Extended network
Updated irregularly
Includes PPP solutions for permanent and campaign sites
Japan GEONET
All data courtesy of GEONET/GSI
Daily PPP positions: Inquire for availability
Subdaily Tohoku-Oki positions and coseismic offsets from the ARIA project: Download location
Disclaimer: JPL's time series products are intended for research and educational purposes only. Commercial use requires prior approval from the Jet Propulsion Laboratory, California Institute of Technology.
Who we are:
Angelyn.Moore (at) jpl.nasa.gov - Network Processor development; Western North America & Global; Japan GEONET; Extended network
Sharon.Kedar (at) jpl.nasa.gov - Western North America & related strain products
Michael.Heflin (at) jpl.nasa.gov - JPL higher-level data products
...all of the Tracking Systems and Applications Section.
Susan.Owen (at) jpl.nasa.gov also contributed to these timeseries, and we enjoy helpful interactions with many other GIPSY developers at JPL.
Last updated: Feb 2022
.